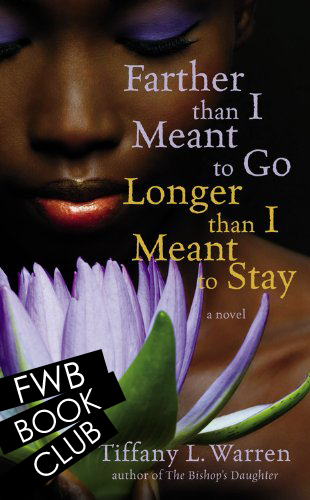 YES GIRLS, BOOK CLUB IS BACK, BY POPULAR DEMAND |
=] We haven't done book club since we first began FWB, but now we feel that it's the perfect time to get back into the swing of things! Aldous Huxley once said, "Every man who knows how to read has it in his power to magnify himself, to multiply the ways in which he exists, to make his life full, significant and interesting". So we're dedicating one book to each month, because that's the least we can do in our technologically consumed lives. For the JANUARY/FEBRUARY term, we have chosen the novel,
"Farther than I Meant to Go, Longer than I Meant to Stay"
.
Here's a short synopsis of what the book is about: "She's independent, successful, and fulfilled in her spiritual walk. But bank president Charmayne Ellis is also overweight and wondering if she will ever be as successful in her personal life. She's never gotten much praise or caring from her ever-critical mother and sister. And her friends are more into matchmaking than being truly supportive. So it seems her prayers are answered when hardworking, saved, and just-too-fine Travis Moon asks Charmayne to marry him. Or were they? Charmayne soon finds the only thing her new husband has to share is one bad-news secret after another. Now, with her reputation and career destroyed and her life at rock bottom, her faith will be tested as never before. Her challenge will be to face her own willful heart-and find the courage to finally put herself in God's hands and discover where her real blessings lie. "
HOW BOOK CLUB WILL WORK THIS TIME AROUND |
We'll read 2 chapters each week and we'll meet back here (in the comment section, above) on WEDNESDAYS to discuss those two chapters. So on Wednesday the 25th of January, we will all have read the intro, Chapter One and Chapter Two and will provide our feedback on what was discussed, how we like the book so far, etc. If you want to invite your blog readers, friends, and family to join in on the fun, feel free to repost this post to your blog and other social networks.
You can also
email FWB
if you need the exact coding for the post ;]. We look forward to reading this book and can't wait to have some fun at the round table discussions. Also, know that this book does come with two different cover types, the one that is posted above and a pink covered-version with a cartoon-like sketch on the front. They both are the same so don't be alarmed. The book should cost you no more than $10 and the e-book versions should cost you no more than $6, but I have seen used versions on sites like Ebay and Amazon for a dollar. Want to get a head start on the book while you wait for it to come in? The author, Tiffany Warren, did us the pleasure of posting the first chapter on
her site
. We can't wait to get the BOOK CLUB started again, just like old times ;] and we look forward to engaging in real conversation with you all!
"Literature adds to reality, it does not simply describe it. It enriches the necessary competencies that daily life requires and provides; and in this respect, it irrigates the deserts that our lives have already become." - C.S. Lewis