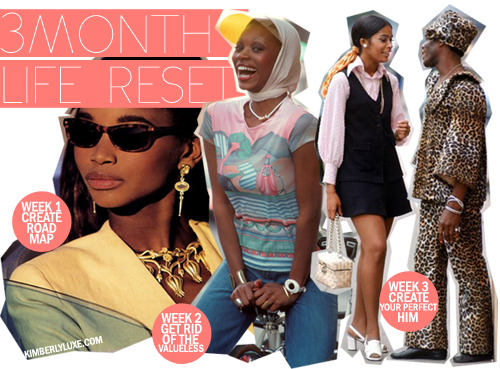 Wow! It's already week three of the twelve week life reset! It feels like just yesterday when we began and with 72 girls on board, a breakdown and recap are definitely in order!



[1] Create a road map.

Your goals for September to December should be listed and at least three things should be accomplished and marked off at this point. It's always important to set both big and small goals. From oil changes, to license renewals. No goal should go unlisted.



[2] Get rid of the valueless.

You should now be disconnected from at least one social network. This will be a month-long task that will be necessary so that you can spend less time indulging in the lives of others and indulge in your own. You should also set guidelines for yourself. How many times can you go to your ex's or frenemy's facebook/twitter/instagram page? Once a week, once a month, never? Lastly, three pages should have been dedicated to listing people and things that you want to let go of. "Instead of starting the New Year off with resolutions, try to go into the New Year already as your better self, that way your first step is with your strongest glide."



[3] Create your perfect him.

Now the fun begins. The next few pages (I originally said three, but three is simply the minimum as it's best for you to be thorough but not to feel confined) of your journal will be dedicated to creating your perfect him, but as opposed to focusing on the physical attributes you desire in a man, it's important that you start off this section by answering the following questions: "What would I want 'him' to love about me?", "What would I want 'him' to love about life?", "What would I want 'him' to love more than me?", and then you can move on to the attributes that you're looking for in a man. Yes, you can now discuss the physical but it is important that you really consider the importance of it. Once you're done with all of this, number each thing by most important (1) to least important (100) thing to you when it comes to your perfectly imperfect man -- in pencil of course. Then use another blank sheet to set your personal standards. Make a list of personal vows and standards to yourself, and then say I do. You can't expect to say I do to him, without saying I do, to you first. Perhaps you'll vow not to have sex on the first date. Perhaps you'll vow to be a friend before trying to be a girlfriend. Perhaps you'll vow not to beg a man for love. Perhaps you'll vow not to look for love, but to let love find you. Write your personal vow to self, and then seal it with a kiss. Yes, put on your favorite lipstick and kiss the page. Fact of the day: The kiss dates back to the earliest days of civilization in Ancient Rome and in the Middle East. A kiss was used as the formal seal to agreements, contracts, etc. Hence, the obvious use of the custom at the end of the wedding ceremony- to "seal" the marriage vows.

Married?! I had a few married folks asking me what they're supposed to do this week. So I've created your task! Your task for week three is to create commitments for your marriage. What will you commit to doing differently? How will you be more of a positive asset to your relationship? You'll also be responsible for listing what makes the perfect wife. Then you'll be responsible for creating and giving your man 10 Vouchers Of Love. He can use those vouchers at any time and you'll be responsible for living up to what the 'coupon' says. There are tons online, so if you need help just google "Husband Vouchers". Perhaps you'll make a voucher that says you'll cook whatever he wants you to cook. Or perhaps you'll make a "get out of jail free card" that'll allow you or him to leave the room for a certain amount of time. Be creative and have fun with it!

Until next time! Happy Living!